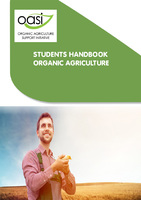 OASI – Organic Agriculture Support Initiative for Armenia
Module Organic Farming
Teachers Guide Book,
Wien,
2018
This teachers' guide book is designed in order to suggest suitable activities for teaching Organic Agriculture in an interactive and participatory way. The book covers practical activities but does not focus on theoretical content.
This book is a guide for teachers to prepare lesson plans that fit the actual needs of the students.
The teachers' guide book contains activities that stimulate a deeper understanding of issues related to Organic Agriculture, development of problem solving skills, decision making, persuading, critical think-ing, etc.
The teachers' guide book outlines a progressive set of skills which is useful in promoting interactive, participatory and students' centered teaching approaches.